Supercharge Your CX
Driving The Customer Experience
Thursday 18th May 2023
9.30AM-5.30PM BST
Mercedes-Benz World, Brooklands Drive, Weybridge, KT13 0SL
Thank you for your interest. Registration for the event is now closed.
Please contact marketing@babble.cloud if you would like to be added to the waiting list for this event or would like to attend our next event, or find out more about Five9's Contact Centre solutions.
Gear up for a day of insights and excitement
Join Babble and Five9 at Mercedes-Benz World for an unforgettable day of contact centre insights and high-performance driving.
Learn how to achieve an exceptional customer experience with in-depth presentations covering the core Five9 contact centre solution, as well as how you can elevate your customer satisfaction through AI, automation and omnichannel delivery.
Got a need for speed? 
We've teamed up with our partner Five9, a leading provider of cloud contact centre software, to deliver an unforgettable experience.
If you're looking to enhance your customer experience strategy by harnessing the power of your existing contact centre solution, or want to find out how you can push the boundaries of what is possible, this event is for you!
A unique opportunity to network with other

Contact

Centre and Customer Experience

leaders

, learn

how to elevate your total customer experience to the next level

and participant in a memorable driving experience.

 
Register your interest
Information submitted on this form may be associated with other information we have collected and used pursuant to our Privacy Policy.
What should you expect?
The morning includes sessions from Babble experts and our industry-leading technology partner Five9,  who will review the latest industry research, highlight current customer pain points and discuss how to overcome them.  This will be followed by our industry panel debate where you get the chance to quiz our presenters. 
Babble/Five9 customer, Yopa Estate Agents, will present a case study in expanding use of the contact centre to encompass sales and marketing capabilities.
We will have customers from a broad range of industries in attendance, offering a valuable opportunity to share insights and network with peers as well as industry experts.
After this it's a gourmet bistro lunch and the driving experience begins. All attendees get to hone their racing skills in the F1 Simulator Zone as well as get behind the wheel of a high-performance Mercedes AMG on the outdoor test circuit. Plus, all guests put their off-road handling skills to the test in a 4×4 Mercedes-Benz GLE on the 10-acre terrain. You will also get a chance to tour the Mercedes Benz World Museum.
Five9 puts you in the driving seat
Five9 is a leading provider of cloud contact centre software, driven by a passion to transform contact centres into customer engagement centres of excellence. Relying on our deep understanding of the cost and complexity involved in customer care, we help organisations of every size create powerful customer connections.  
Five9 helps you reimagine your customer experience and achieve tangible business results. The Intelligent Cloud Contact Centre enables you to engage customers on their channel of choice, streamline your operations, and use the power of practical AI, automation, and the cloud to increase your business agility and exceed your customers' expectations. 
"Many organizations are challenged by agent staff shortages and the need to curtail labor expenses, which can represent up to 95% of contact center costs. Conversational AI makes agents more efficient and effective, whilst also improving the customer experience.

"

 
Who should attend?
This event is suitable for information technology and customer experience professionals including: 
CIOs, CTOs

, CCOs, CXOs, and CCXOs

 

Directors and Heads of Customer Experience and Customer Success

 

Heads of Operations, CRM, Contact Centre

 

If you are a budding racing driver, even better.
5 great reasons to register
Learn and network with peers
Unique Driving Experiences
Agenda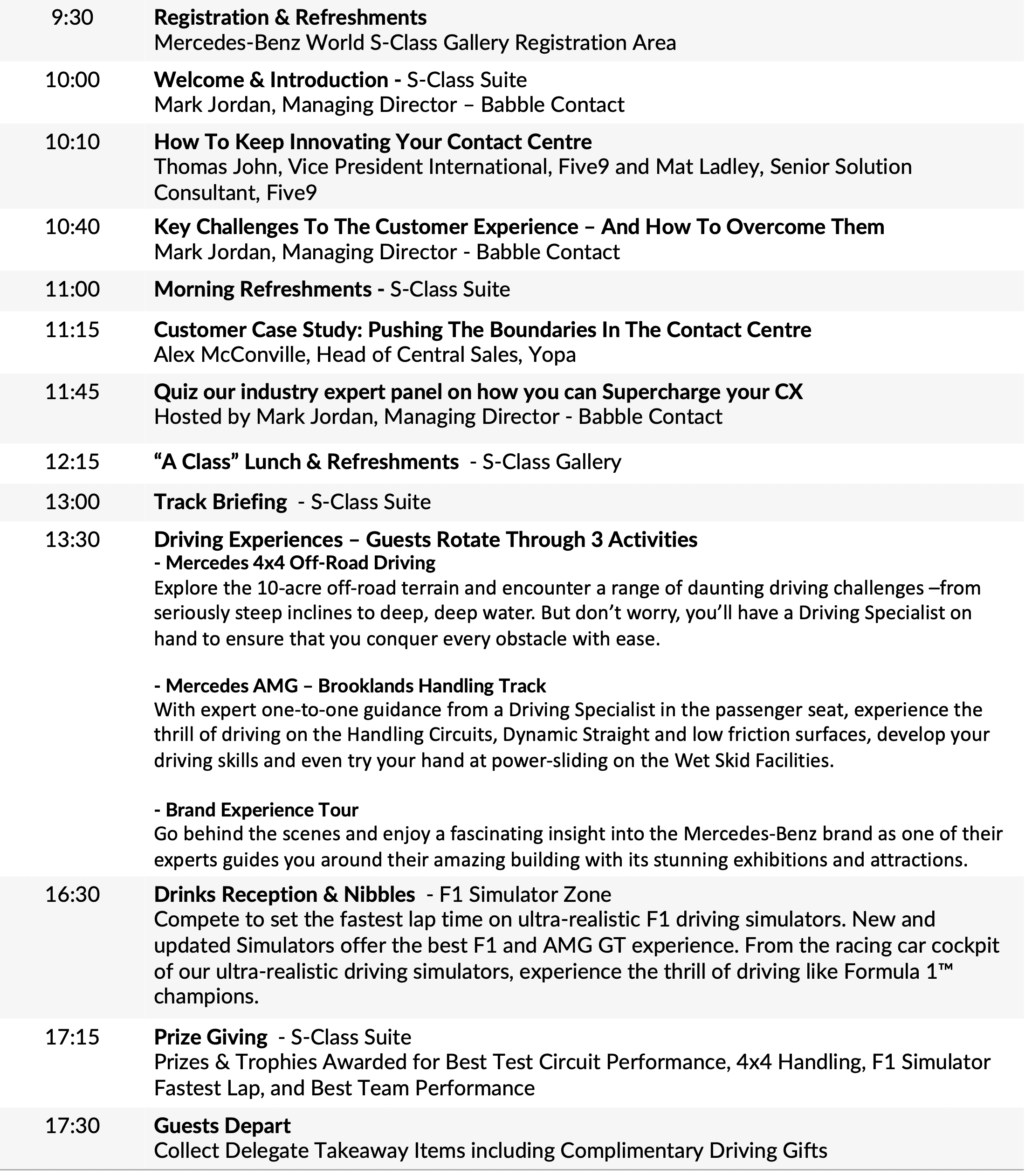 *Participation in the driving experience is entirely optional, but we promise you won't be disappointed.
A customer's perspective
Hear from Estate Agent Yopa, who have utilised their Five9 contact centre for outreach in a sales and marketing environment. Since Yopa started working with Babble, it has seen its organisation transformed thanks to an automated Five9 contact center solution: 
Call data automatically syncs to connect agents with leads most likely to generate sales

 

Increase of 75% of monthly talk time

 

A 200% increase of monthly dials completed 

 

Agents speaking to more customers than ever, and having better, more bespoke conversations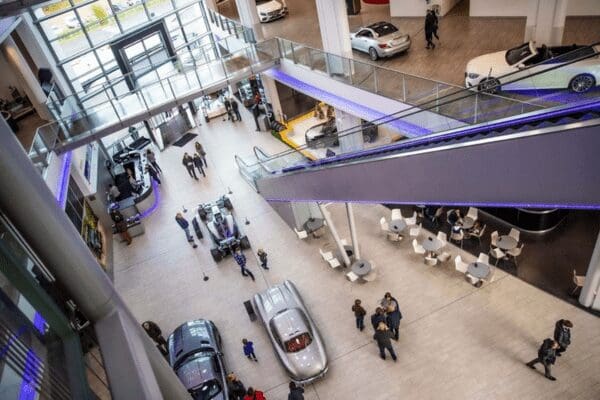 The venue
Mercedes-Benz World is the ultimate venue and with first-rate facilities, experiences, and exhibits – it's an experience on every level! The centre has a huge amount of motor racing heritage attached to it and is built within the Brooklands motor racing circuit; the very first purpose-built banked motor race circuit in the world. The first race meeting at Brooklands took place in 1907 in the inaugural Montague Cup race. 
Track experiences
Mercedes-Benz World features a non-banked test circuit, allowing visitors to get behind the wheel of the latest Mercedes-AMG-line vehicles and experience their ferocious speed, handling and power. There's also a low friction braking straight and wet skid circle. Under expert one-to-one guidance from a Mercedes driving specialist, participants develop their driving skills and learn about the crucial role the cars' in-built technology plays. 
About Babble
Babble is a leading technology business that is reimagining how we do work. Founded in 2001, the company works with over 20,000 organisations in a wide range of sectors — including financial, health and education, travel and accommodation, and public services.
Babble's growth over the last few years is one of the big success stories in its industry. This is demonstrated by the private equity investment of Graphite Capital in November 2020 — which was supported by reinvestment from LDC and management — to accelerate the buy and build strategy for the business.
Babble has four product pillars — Comms, Contact, Cyber and Mobile and believes in making next-generation technology simple to use, deploy and manage. This gives people the tools they need to build the organisations they want. Agile, scalable and successful.
Babble awards

About Five9
Five9 is an industry-leading provider of cloud contact center solutions, bringing the power of cloud innovation to more than 2,500 customers worldwide and facilitating billions of customer engagements annually. Five9 provides end-to-end solutions with digital engagement, analytics, workforce optimisation, and AI to increase agent productivity and deliver tangible business results. The Five9 platform is reliable, secure, compliant, and scalable. Designed to help customers reimagine their customer experience, the Five9 platform connects the contact center to the business while delivering exceptional customer experiences that build loyalty and trust.
Babble accreditations