Tech Essentials
Market-leading productivity, security and IT support solutions in a single, unified package designed with the SME in mind.
Speak to an expert
Tech Essentials is a multi-layered stack of best-in-class cloud productivity and security solutions, designed with the SME in mind. Powered by Microsoft 365 Business Premium, this bundle packs a punch! And with the freedom to build the bundle that works for you, it's a game-changer.
Our mission is simple: provide essential tools from industry-leading providers in one seamless package. And we don't stop at tools; we wrap it all in comprehensive support to free up your internal resources. We're here to relieve the pressure when it comes to securing your environment, ushering in a cultural shift towards heightened cyber-awareness in your workplace.
Tech Essentials offers one partner, one price, one bill – simplifying your life and your business.
Tech Essentials
Get in touch with us today for a customised offer and see how a Babble business bundle could work for you.
Schedule a meeting
Tech Essentials core solutions
Hand selected by our team of experts, Tech Essentials brings together market-leading productivity, collaboration, and security solutions from some of the world's most trusted technology providers. With Microsoft 365 at its core, Tech Essentials layers secure cloud backup and cyber awareness training in a unified, customised package that drives a security-first culture.
Microsoft 365 Business Premium or F3
Built for up to 300 users, Microsoft 365 Business Premium brings together best-in-class apps and powerful cloud-based tools with comprehensive security, to help protect your business against advanced cyberthreats. Dependent on the needs of your people, our experts also selected Microsoft 365 F3 as an option, which connects an unlimited number of your frontline workforce with purpose-built tools and experiences that allow them to do their best work, protected by Enterprise-grade security. Learn more about these licences in the FAQs section of this page.
Mimecast Cyber Awareness Training
With more than 90% of cyberattacks today beginning with an email and nearly one in four phishing emails opened by unsuspecting employees, cyber awareness has never been more important to a modern business. Cyber awareness training educates employees about the wide variety of threats they may encounter or actions they may take that could jeopardise their organisation's security. This helps employees understand what threats look like, how they work and how they should respond when they encounter a threat.
Acronis Cyber Backup for Microsoft 365
While Microsoft ensures high availability of its core applications and overall infrastructure resilience, they do not take responsibility for protecting your data. Without third-party backup, sensitive business data such as emails or shared files are not protected from the most common or serious data loss issues (accidental deletion, malware etc). Regain control of your Microsoft 365 data, manage unnecessary expenses, and keep your business running with a market-leading cloud-to-cloud backup solution, which is easy to use, efficient and secure.
Your business, your bundle, your way
Have every service you'll ever need with a single partner and a single price. Tech Essentials is a personalised, scalable, and flexible solution that ensures all your bases are covered with a comprehensive suite. From familiar Microsoft software to advanced protection services, Tech Essentials has everything you need.
Seamless collaboration and communication
With Microsoft 365, teams can use integrated, powerful apps like SharePoint, OneDrive, Teams, Outlook, and Exchange to do everything. Enable an environment that fosters a culture of productivity no matter where you are.
Strengthening productivity
At the core of your business will be the products that let your people do their work efficiently. With up-to-date and integrated tools and features, you'll have the best software ready to go for any device and any location.
Cloud backup protection
Even with Microsoft's built-in security solutions, having extra layers of cyber protection is crucial. Acronis offers vital backup management, insight-driven monitoring, as well as MFA and encryption protection.
Engaging Security Awareness Training 
Ensuring your teams are properly trained is the difference when it comes to cyber attacks. Mimecast Awareness Training is a fun, engaging way of inspiring a culture of risk recognition with industry-specific, informative content.
Stress-free security services
Sophos cover endpoint protection to ensure that every endpoint is monitored and protected against cyber threats. World-class DNS protection powered by Cisco adds another layer of protection between the web and your people.
Enhanced efficiency with AI and automation
Transform your employees' experience with an environment that lets them do more with less. Microsoft 365 enables an engaging workspace supported by integrated AI tools and automation that make your team's life easier.
Tech Essentials
Get in touch with us today for a customised offer and see how a Babble business bundle could work for you.
Schedule a meeting
No matter your goals, needs, or budget, we have a Tech Essentials bundle that's right for you. Every solution included has been selected for its performance against all other options on the market – with Tech Essentials, you're getting best-in-class tools and services.
We understand that the needs, priorities and resources of every business differ. Are you looking for a greater emphasis on security, or productivity and collaboration? Do you have all the in-house solution expertise you need? Whatever your needs are, we can help you mix and match the right tools and services to form the perfect plan.
| | Microsoft 365 F3 | Microsoft 365 Business Premium | Acronis Cyber Backup for Microsoft 365 | Mimecast Awareness Training |
| --- | --- | --- | --- | --- |
| Tech Essentials Lite | | | | |
| Tech Essentials Standard | | | | |
| Tech Essentials Enhanced | | | | |
With you every step of the way
Whether you're upgrading from an existing Microsoft solution or making your first move to a cloud-based approach, we've got you covered. Our streamlined onboarding process ensures a hassle-free transition, minimizing disruption to your operations. Our 4 steps for success guarantee a seamless migration so that you can reap the benefits straight away.
We work with your internal stakeholders to define the scope and value of your Tech Essentials migration and make sure that the way forward is understood by all.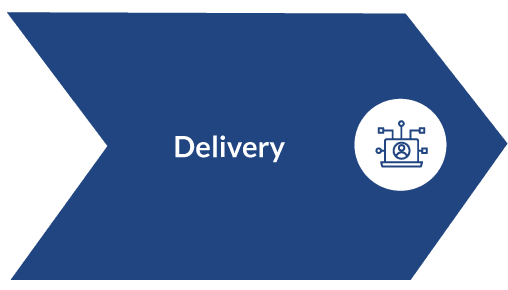 We'll be with you throughout the entire migration process. Our experienced technicians guide you through creating, testing, and launching your new environment.
Rolling out the solutions in your chosen Tech Essentials plan will be executed with our tried and tested adoption plan, ensuring an easy, seamless onboarding experience.
Our job won't be complete until your organisation has received the post-migration support it needs to take full advantage of your new environment.
Additional security options
While our Tech Essentials packages are underpinned by Microsoft's market-leading cloud productivity suite, Microsoft 365, we also partner with several other best-in-class vendors. Strengthen your security posture by adding alternative solutions from leading cyber security vendors to your Microsoft environment or to complement non-Microsoft services, fully managed by Babble's expert teams. You're free to pick and choose the options you need to support your cyber security landscape.
Email Security
Powered by Mimecast S1 licence, Babble Email Security is designed to protect modern businesses against sophisticated and evolving cyber threats. This solution keeps users and data safe by providing protection against spam and viruses, malware and impersonation attempts, and data leaks.
Awareness Training
Powered by Mimecast Awareness Training, inspire a culture of security awareness and reduce the risk of human error from a single, easy-to-use platform. Continuous security awareness transforms employees into a trusted first line of defence. Measurably reduce risk while winning new and unexpected allies in the struggle to keep your organization's work protected..
Endpoint Protection
Enhance your defences and simplify management with cloud-based endpoint protection, powered by Sophos Intercept X. Access and manage your endpoint security wherever you are, any time, without the need to spend more on infrastructure and maintain on-premises servers. Switch to an endpoint security cloud solution for smarter, faster protection.
DNS Protection
Powered by Cisco Umbrella, DNS security helps protect users from cyberthreats both on and off corporate networks. Improve the user experience by speeding up connection requests, while blocking malicious traffic and mitigating data exfiltration.
Support packages built for you
As businesses aim to be more agile and responsive in today's fast-paced and ever-evolving landscape, innovation and digital transformation initiatives have soared. However, to compete and win, you need to be able to see as much value and a tangible, positive return on the investment made in new technology stacks.
No matter what's driving you — business growth, risk reduction, IT spend management, maximized ROI, or better visibility — Babble support packages offer dedicated end-to-end solution support at a fixed monthly cost. From staff augmentation to full IT support, we become an invaluable extension of your IT resources through:
Access to highly skilled, experienced professionals, 24 hours a day.
Proactive monitoring and system management across SaaS (Software as a Service) solutions, network environments and endpoints.
Advanced problem-solving, planning and strategy, training packages, knowledge sharing and much more.
Customised support models that give you the freedom to choose the level of service you want. From cloud-only support to full remote IT support with on-site callouts where applicable, we have you covered.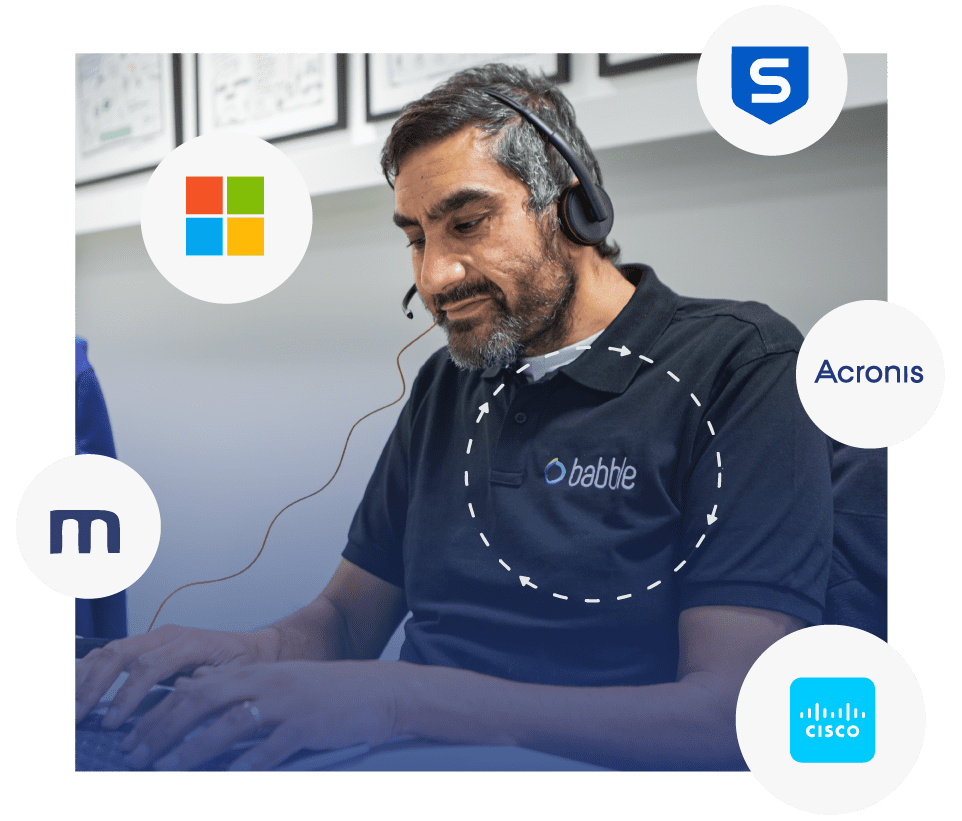 Manageable, stable fixed monthly cost
Our support packages offer highly skilled, expert resource for a single, fixed monthly cost. Your business and your people can concentrate on doing what you do best, leaving the management of your environment to the experts who know what to do best.
Pro-active, specialist Microsoft expertise
With an ever-growing number of applications and services, Microsoft 365 can be complicated and time consuming to master yourselves. As a leading Microsoft partner, we're always informed of the latest uses, updates, and initiatives.
Save time and maximise efficiency
Free up your in-house IT teams from the menial tasks that eat up their time and allow them to concentrate on innovative and transformative projects. Dependent on the level of service you require, we can pick up the day-to-day management of your environment.
Client Testimonials
Clients we have helped
Babble helped us improve our security through DNS-layer protection that is delivered through Cisco Umbrella. This has allowed us to protect all our users and maintain full control of our network traffic, enabling us to proactively resolve any potential threats to our IT Infrastructure. This has been especially valuable to us though this period of remote working and store closure. The support team at Babble are very knowledgeable, and always quick to respond.

Ben Jennings

- IT Manager, Fabb Furniture
"The process was planned well. Each stage was completed and reviewed before moving forward with the next stage. The process was done professionally and efficiently with support from Babble for each member of staff on an individual basis, and follow-up support was provided to prevent individual issues from arising."

Carol Waters

Senior Manager | Finance and Charities, Rotary International in Great Britain and Ireland
Babble is an amazing organization that specializes in finding solutions for data and telecommunication needs. Our Success Manager was Yaz Mistry and his team spent hours looking over our business processes to see if they could help. There was no high pressure sales, no over selling, and no finger pointing. Babble proposed a solution that decreased our risk, exceeded our expectations, and normalized the year over year cost increases. When it came to deploying the solution, Babble was there all the way.

Glen Becker

- Director of Global Services, MiTek
'It is great to have that personal touch when most alternative providers treat customers only as a number. These guys make you feel like there is a real person supporting you and there when you need it.'

Paul

5-star Google Review
Frequently asked questions
Tech Essentials
Get in touch with us today for a customised offer and see how a Babble business bundle could work for you.
Schedule a meeting